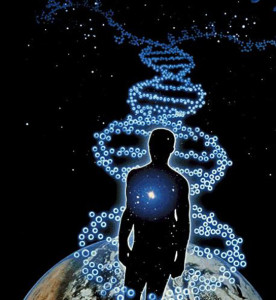 We are all exposed to electromagnetic radiation constantly on a daily basis from mobile phones, Wifi hot spots, power lines and electrical appliances. The sources of this pollution are many and varied, each having its own range of wavelength, frequency and intensity. How does the artificial electromagnetic soup that we bathe in every day affect our most precious gift, our DNA?
Our DNA is a polar molecule which is affected by charged particles and electromagnetic fields, much in the same way as other polar molecules. Put simply, a polar molecule such as water has predominantly negative and positive regions. The charge on the molecule will align itself with the direction of an electromagnetic field. When the field oscillates then the molecule will switch from one direction to the other resulting in increased temperature, this is essentially the workings of the microwave oven.
The issue with DNA, however, is not merely one of increasing temperature. Many studies into mobile phone frequency EM radiation have only studied the heating effects. Whilst heating of the brain does occur, this is not the only cause of concern. The internal components of the DNA structure are rotated at different frequencies and different rates and the external ribbons of deoxyribose and phosphate are rotated and pulled.